Cambodian Space Project landing in Bangkok @ Cosmic Cafe w/ Maft Sai
凄い落ち込んでいる中、凄いウィルスにやられています 今日この頃。
けいたの写真を良く見ています、すると少し元気が出ます。
明日のイベント、僕も少しDJしています~
Qotaroo君のこのフライヤー、周りの関係者の大絶賛!! 僕も大好きです:)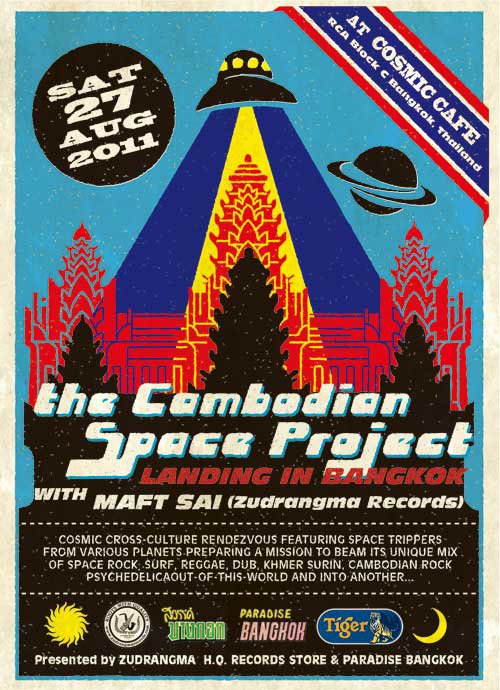 Cambodian Space Project and Zudrangma Records
Premier their European collaboration and CSP record launch!
Get ready to BLAST OFF!
••••
In just a short space in time, CSP has toured in Europe, Asia, and most recently Australia. The band [toured] China for the first time and has been invited to attend the South By South West Festival in Austin Texas, as well as other major European festivals later this year.
In Australia, the normally tight-lipped, arts philanthropist David Walsh remarked "Cambodian Space Project? they're a personal high-light" - at Mona Foma festival 2011. Indeed, Srey Channthy and her cross-culture band has been turning heads - from the rock clubs of Paris to the mountains of Mondulkiri with performances that have her unique Khmer vocals suspended above a psychedelic mix of 60's Cambodian rock songs and re-workings of traditional songs from the rice fields of Cambodia.
••••
Plus
'Dj Maft Sai's selection. From tough African/Jamaican roots, to the heaviest Luk Thung, the deepest Molam and Far Eastern Psyche.
Bring dancing shoes and an open mind!
••••
PARTY INFO:
Date: Sat 27th August 2011. 09pm - 2am
LIVE: The Cambodian Space Project - 6 piece direct from Phnom Penh
DJ: Maft Sai (Zudrangma Records)
Door: 350 Baht + 1 Tiger Beer & 1 Ya Dong + PB12 mix CD.
Where: COSMIC CAFE, RCA Block C. BANGKOK
ENTRY: 350THB with 1 beer / 1 yadong / 1PB mix CD
For more information:
ZUDRANGMA HQ RECORDS STORE
7/1 Sukhumvit soi 51 Wattana
Bangkok 10110 Thailand.
Open: Monday - Sunday 2pm till 9pm
Tel : +66 (0) 88 891 1314
Transport : BTS Thonglor Station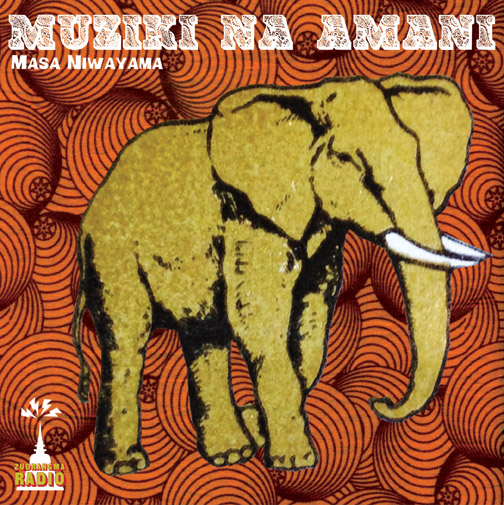 南国タイはバンコクより 僕の周りのこと 近所のこと 気になったこと あんなこと や こんなこと 書きます.  OYAMAPAN SOUND  HIROO&NK CHANとのGIANT SWING、MAFTSAIのZUDRANGMA RECORDSの事など
by masa_niwayama
S
M
T
W
T
F
S
1
2
3
4
5
6
7
8
9
10
11
12
13
14
15
16
17
18
19
20
21
22
23
24
25
26
27
28