GIANT SPACE ATTACK !!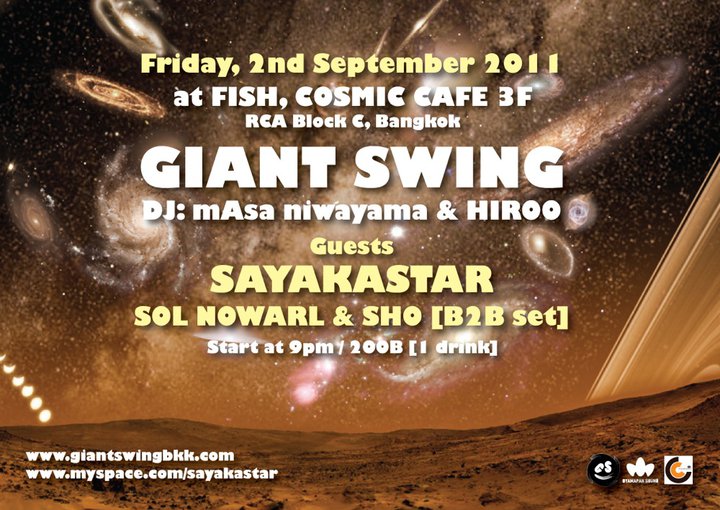 前回のGLOWから、かなり早めの開催ですが、GIANT SWINGは今週の2日金曜日にRCAにあるCOSMIC CAFEの3F FISHで行います。
今回のゲストは、また僕の元に、流れ星が帰ってきました。 
そうですSAYAKASTAR さやちゃんです!!
いつもポジティブな感情を与えてくれるさやちゃん、DJのSETも本当にそれが感じれて、気づくとみんな踊ってしまいます。 前回のカオサンでのPLAYでも、お店の中かが一体感に包まれて、本当に良い時間を作ってもらいました。 今週の金曜日は楽しみですw またダブルゲストとして、さやちゃんの良き友達でもあります Sol Nowarl & Sho (B2B set)の2人のB2B SETをイベントの序盤からしてもらいます。 アンビエントの静寂から、パーティーの喧噪・始まりをまかせます。 
堅苦しい話はぬきですね、遊びましょう。 
GIANT SWING

★Music journey into cosmic space★

Don't freeze. Swing.
=====================
Friday, 2nd September2011
from 9pm
at FISH (Cosmic Cafe 3F)
RCA Block C
200B. + 1 drink
=====================
Guest DJs:
SayakaStar
SayakaStar has been a part of the Tokyo music club scene since 1994. She started out as a Techno-Pop and New Wave DJ working at the lively and exciting clubs and parties happening in Japan, including those that were still underground at that time. She grew and developed her musical skills getting her inspiration and muse from the excitement of Tokyo's clubs and the creativity brewing underneath in the smaller avant-garde venues. SayakaStar joined a band called "Texas 2000" in 1999. The band plays mad electronica music using only T.I. machines (Texas Instruments) such as "Speak and Spell" and so on.without a sequencer and no TB-303. In 2004 while she was traveling around the world performing and DJ'ing her grandfather, who was an astronomer, died. In the Australian bush she looked up into the brilliant, starry night sky and felt moved and inspired by the loss of her grandfather who loved the stars. She sensed that he wanted to say to her, "Keep moving with music! Follow the Light!" So that day she named herself "SayakaStar". Since then she has organized and performed at both indoor and outdoor events with success all over Japan, Australia, and Germany. Fusion Festival2009(Germany),Exodus Festival2006(Australia) Expo 2005(Japan),Parkbridge(Thai) Currently SayakaStar is based in Berlin, the capital of Techno, working as a very active DJ all over this planet. She plays rainbow, multicolored music with good vibrations chock full of deep TechHouse beat sets and also freestyle chill-out sets. Currently, She is Playing at Savannah in Gibraltar on every Saturdays. http://www.savannah.gi/
http://www.myspace.com/sayakastar
Sol Nowarl & Sho (B2B set)
Solnowarl is an alternative ambient DJ from southern Japan.
She has been strongly influenced by the rave culture in the early 2000's when she began her career as a DJ.
Solnowarl was a resident DJ as well as the decorator for one of Fukuoka's most prominent night clubs.
After tearing up the nightclub scene she took her sound outdoors and began playing festivals such as Rainbow (2005) & Total Solar Eclipse Music Festival (2009).
She has always been drawn to warmer climates and she has finally made her way to Bangkok.
She is a master of blending the sounds of deep ambient and minimal space techno. Travelers of sound are captivated by this woman's universal atmosphere.
http://solnowarl.podomatic.com/
with GS DJs:
mAsa niwayama
HIROO
=====================
More info.
masa.niwayama@gmail.com
avaunt@hotmail.co.jp
http://giantswingbkk.com/
cosmiccafemail@gmail.com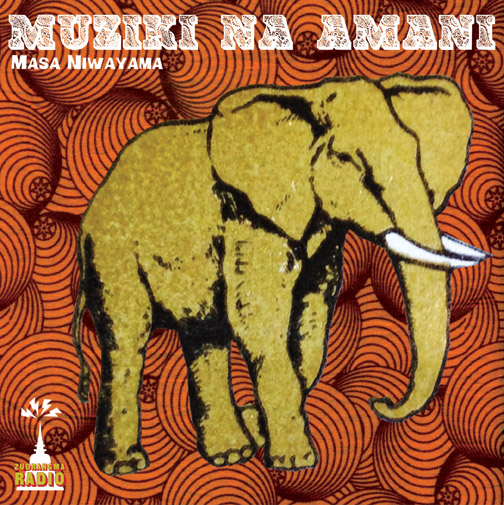 南国タイはバンコクより 僕の周りのこと 近所のこと 気になったこと あんなこと や こんなこと 書きます.  OYAMAPAN SOUND  HIROO&NK CHANとのGIANT SWING、MAFTSAIのZUDRANGMA RECORDSの事など
by masa_niwayama
S
M
T
W
T
F
S
1
2
3
4
5
6
7
8
9
10
11
12
13
14
15
16
17
18
19
20
21
22
23
24
25
26
27
28