GIANT SWING with Dan Bi Mong
今月のGSは2回行います!その1発目 来週の火曜日(次の日はタイの祝日です)に、悪戯っ子のDAN、PARTY男のDAN、お茶目なDANをGESTにDAN DAN NIGHT!! です。
来月にはベトナムへ移住してしまうDANのお別れパーティー!是非 お越しを~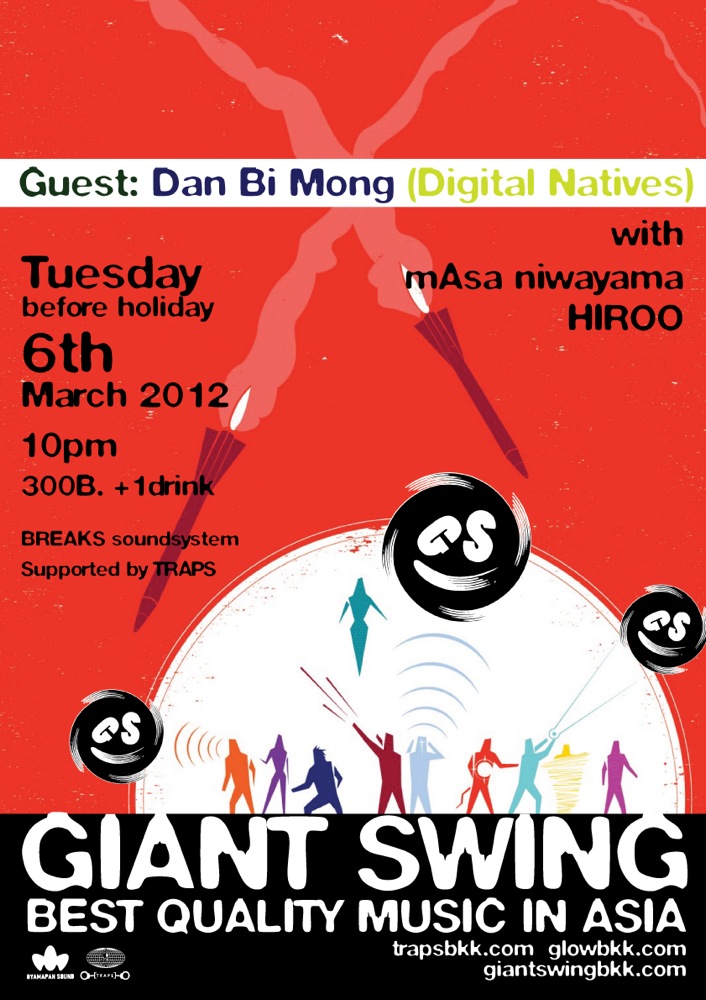 GIANT SWING
=====================
Tuesday(before holiday), 6th March 2012
from 10pm
at
GLOW
Sukhumvit Soi 23, Bangkok
300B. + 1 drink
=====================
DJs:
Dan Bi Mong (Digital Natives)
mAsa niwayama
HIROO
Soundsystem: BREAKS Soundsystem
Supported by
TRAPS
=====================
Get free DJ HIROO Mix CD (Limited 30 only)
=====================
DAN BI MONG (Digital Natives, Switzerland) – BIOGRAPHY
"Born in 1979 in Switzerland, I started music when I was a child, playing classical instruments like piano, flute, etc. I was involved in electronic music since 2005 by producing a bouncy/groovy tech/house under the name WongChingChong. So at first, I only used to make live acts but really quickly I started also to make DJ sets because of the number of gigs I got in clubs and festivals.
In 2007, I founded the collective called Digital Natives based in Lausanne, Switzerland. We were 4 people offering a mixture of DJ sets and live acts by producing live remixes on stage. Our technical setup was composed with 1 turntable linked to Serato, 1 computer using Ableton Live, 1 groovebox Korg Electribe, 1 Korg Kaos Pad Pro and 1 Korg Oscillator Pro. We had residencies in Lausanne's clubs like D!Club (www.dclub.ch) and Loft Electroclub (www.loftclub.ch) and this innovating project offered us also the opportunity to play in the main electronic music events of Switzerland alongside world known artists like A-Track, Dj Mehdi, Yuksek, Busy P, Ricardo Villalobos, Dusty Kid, Mathew Jonson, etc, and also in internationally acclaimed events like Montreux Jazz Festival and Paleo Festival. For more info about the Digital Natives project please check the bio just bellow.
After 4 years passed in the collective Digital Natives, we decided to split to go each one in our proper ways. I am now for some years more interested in playing a house/classic-house/nu-disco/deep-house/analog-tech music, always attentive to keep the crowd pro-active with the music to create a classy-groovy dancefloor mood. I played those last year in places like Motel Campo in Geneva (CH), QueenKongClub in Neuchâtel (CH), Lock Tavern in London (UK), Electrosanne Festival in Lausanne, Le Bourg in Lausanne (CH), Glow in Bangkok (TH), Culture Club in Bangkok (TH), The Factory in Ho Chi Minh City (VN), Dragonfly in Hanoi (VN), etc, alongside artists like, Digitaline (Cadenza, Raoul Rec., CH), Gregorythm (Raoul Rec, Tigersushi, Minibar, CH), Gerd Janson (Running Back, D), Mock & Toof (DFA, Tiny Sticks, UK), Etienne Jaumet (Versatile, I am a cliché, F), Burnski (Poker Flat, 20:20 Vision, UK), Matt Wasley (Human Life, USA), Crowdpleaser (Turbo, Mental Groove, CH), Montonn Jira (Samutprakarn Sound, TH), Casper C (Fabric, UK), Ly Sander (Deeply Rooted House, Mental Groove, CH ), Born Bjorg (Poor Rec., CH), etc.
Since September 2011, I moved from Switzerland to Bangkok in order to go on with music production."
http://soundcloud.com/danbimong
=====================
More info.
masa.niwayama@gmail.com
avaunt@hotmail.co.jp
giantswingbkk.com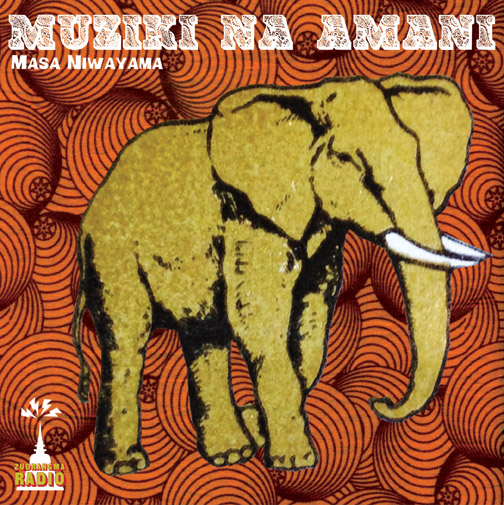 南国タイはバンコクより 僕の周りのこと 近所のこと 気になったこと あんなこと や こんなこと 書きます.  OYAMAPAN SOUND  HIROO&NK CHANとのGIANT SWING、MAFTSAIのZUDRANGMA RECORDSの事など
by masa_niwayama
S
M
T
W
T
F
S
1
2
3
4
5
6
7
8
9
10
11
12
13
14
15
16
17
18
19
20
21
22
23
24
25
26
27
28