GIANT SWING presents bud ryukyu -Future Dub & Space Bass Muzik in Asia. Thai-Ryukyu Friendship!-
今週の土曜日のGiant Swingは、バンコクと沖縄の融合再び!! bud Crewを迎えての素晴らしい夜を皆で分かち合いましょう! Hiroo君がタイを離れる日も近づいてます。 そろそろ、酔い潰しましょうwww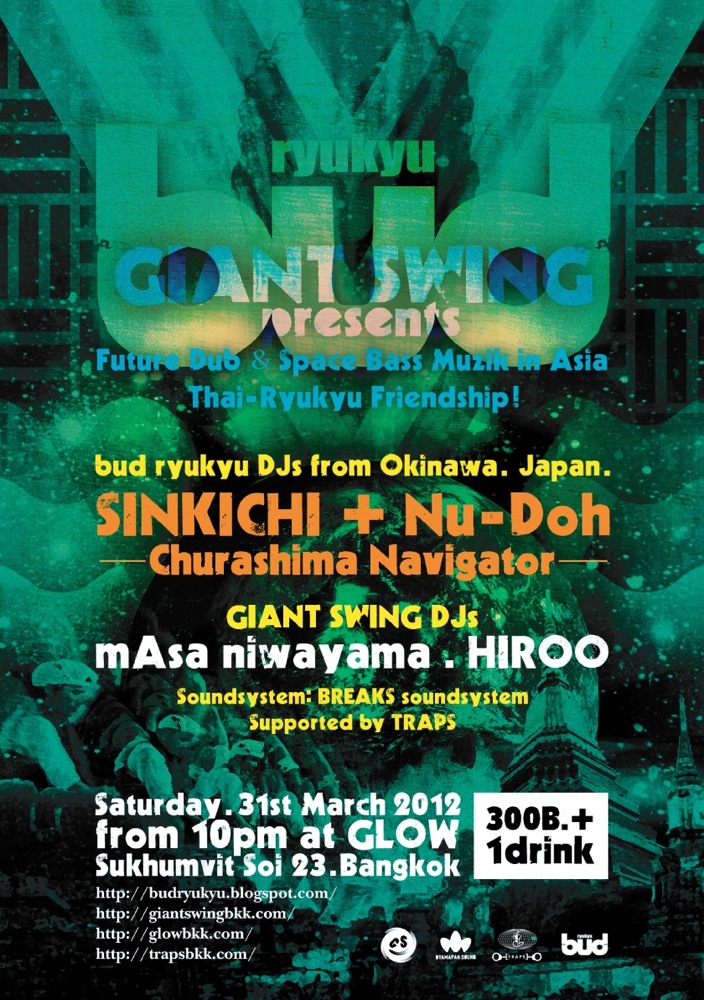 GIANT SWING
presents
bud ryukyu
Future Dub & Space Bass Muzik in Asia
Thai-Ryukyu Friendship!
=====================
Saturday, 31st March 2012
from 10pm
at GLOW
Sukhumvit Soi 23, Bangkok
300B. + 1 drink
=====================
bud ryukyu DJs (from Okinawa, Japan):
SINKICHI + Nu-Doh (Churashima Navigator)
GIANT SWING DJs:
mAsa niwayama
HIROO
Soundsystem: BREAKS Soundsystem
Supported by TRAPS
=====================
DJ SINKICHI
Originally a drummer from Kyoto, Japan. He has travelled in many directions with music. He experienced rave culture in London Then it became a main influence for him to begin DJing.
He came back and formed a drum-electronic-turntable style band with music that can be discribed as Techno, House, Trance, Jazz, Afro and Ambient... and toured all over Japan. The band has released totally 5 albums.
DJ SINKICHI has appeared in many open-air festivals, raves and clubs. In 2007, he moved to Koza, Okinawa, a place that has a close relationship with the US military. He has started several parties in that "music town".
http://djsinkichi.blogspot.com/
http://soundcloud.com/hejah7
DJ NU-DOH
In 1993, started Djing at Hino-Tama hall in Okinawa.
In 1999, with DJ SAHIB, created AUDIO SUTRA. In 2007, he and bassist T. Jinguji started "2nd roots records".
A Mix CD "Nu-Doh Live Mixed @ Mohican 2010730" has been released from JUZU aka MOOCHY's label "PROCEPTION".
Nu-Doh trains everyday to become a deep "Okinawan (Shiman-Tyu)".
CHURASHIMA NAVIGATOR
("Churashima" is a beautiful island in Okinawa.)
Started by two people, one is SINKICHI who is an ex-drummer of SOFT and AOA and another is NU-DOH who participated in music group AUDIO SUTRA which was led by YAMA a.k.a. SAHIB.
The party "bud ryukyu" started by them in 2010, it is now becoming the biggest Bass Music Party in Okinawa, which has invited MALA, ROB SMITH, etc. bud ryukyu is focused to spread their actions from Okinawa to the world.
http://www.myspace.com/churashimanavigator
Yakaza Ensemble remixed by CHURASHIMA NAVIGATOR
http://soundcloud.com/crosspoint-1/rmx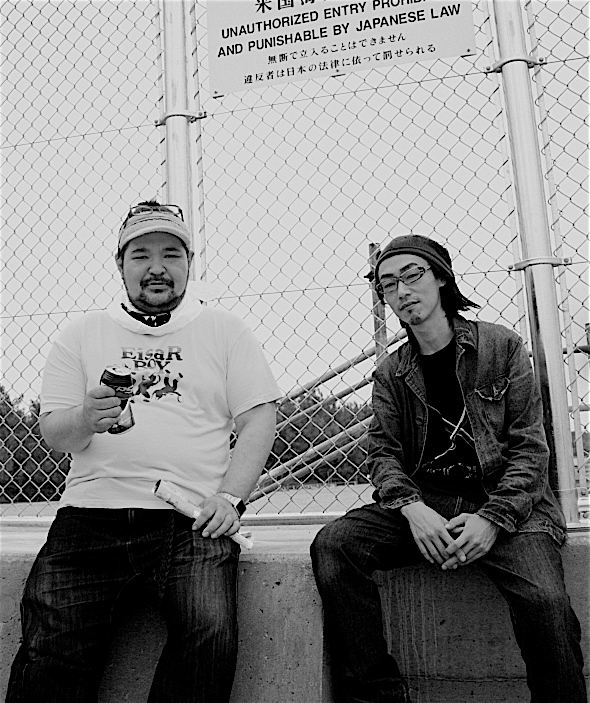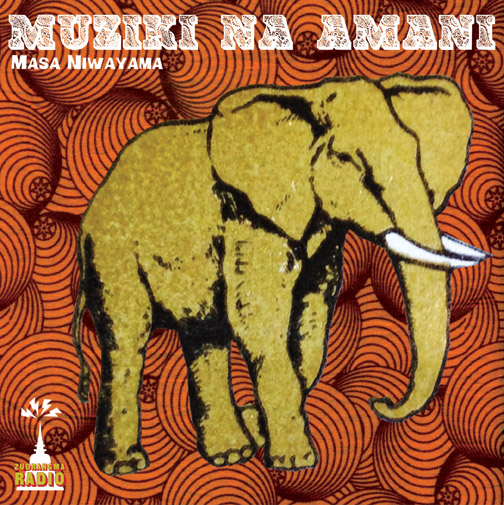 南国タイはバンコクより 僕の周りのこと 近所のこと 気になったこと あんなこと や こんなこと 書きます.  OYAMAPAN SOUND  HIROO&NK CHANとのGIANT SWING、MAFTSAIのZUDRANGMA RECORDSの事など
by masa_niwayama